Holiday Budget Center Fond Du Lac, WI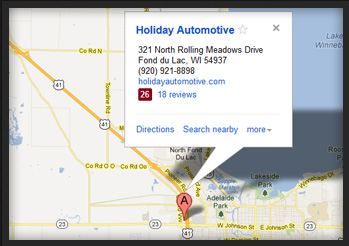 Holiday Budget Center Fond du Lac WI
GOAutoPlus.com is home to some of the leading dealerships across the state of Wisconsin. Holiday Budget Center Fond du Lac WI has its entire inventory available at GOAutoPlus.com for car shoppers in the Fond du Lac area. This non-commissioned dealership works to accommodate prospective drivers in every way possible, and by making its full selection of new and used cars in Fond du Lac WI accessible at GOAutoPlus.com, Holiday Budget Center shoppers can find exactly what they're looking for quickly and efficiently. All of the dealership's top brands are found at GOAutoPlus.com. Everything from cars to trucks to commercial vehicles are available at competitive prices to suit the needs of all drivers.
Whether they are drivers who need to be mindful of a budget or college students trying to save while in school, the Holiday Budget Center Fond du Lac WI vehicles available at GOAutoPlus.com are guarenteed with the best quality and longevity. GOAutoPlus.com makes it easy to search directly for Holiday Budget Center Fond du Lac WI or for a specific vehicle from the dealership. Convenient search tools, payment calculators, and fuel savings calculators are also available so shoppers can prepare to sign on the dotted line before even stepping foot on the dealership lot.

Designed to make the lives of Fond du Lac car shoppers easier, GOAutoPlus.com and Holiday Budget Center work together to offer a better driving and car buying experience. Everything from the initial research process to on-going checkups and maintenance can be accomplished between GOAutoPlus.com and Holiday Budget Center Fond du Lac WI.